---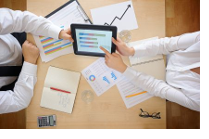 This service is provided to assist those who are either prevented and/or deterred from writing a business plan, or for whom the preparation of the business plan would significantly delay the opening of the business. The business plan is prepared by an EnterpriseWorks business consultant in conjunction with you or your business team so that the key members are active participants throughout the development process.
DISCLAIMER: Due to the individually unique funding requirements of financial institutions, venture capitalist firms, individuals, and government assistance programs; an EnterpriseWorks written business plan cannot guarantee funding acceptance nor can an EnterpriseWorks written business plan control changes to the operating environment and market conditions in order to guarantee a successful startup or expansion.

CONTACT US TODAY to schedule your complimentary consultation.